JUPITER AND ITS MOONS RISE OVER THE BRIGHTON SKYLINE:
I would love to say I planned this photo but I'd actually set out to take a photo of the rising Moon behind the city skyline.  However, as I was firing off some practice exposures a short while before the Moonrise I noticed an orange 'streak' in my photos.  I instantly knew what that orange streak was with my 'Sky app' confirming it as Jupiter.  The next 5 minutes were a frantic adjustment of settings and exposures in order to capture a pretty unique sight and one which made my late night trip even more exciting. 
LABELLED ASTRO OBJECTS AND BRIGHTON LANDMARKS:
The below diagram labels Jupiter, 3 of its moons (which are readily visible with a half decent pair of binoculars) and two stars which were the only other astro objects that I could 'bring out' at this low altitude.  I have also labelled a lot of the big landmarks in the city's skyline, although the piers are a bit harder to see with a lot of other buildings behind them.

[Link to see this photo in the Brighton's Top Attractions gallery without the labels!]
TECHNICAL INFORMATION:
The above image is captured from multiple exposures taken from Lancing beach (almost 12 km away):
1) the first exposure for the skyline - this was a long exposure to bring as much light as possible onto the camera's sensor in order to reduce the noise in the photo (by reducing the ISO).  In this photo Jupiter, its moons and the stars became a long streak as they were constantly rising.
2) second exposure for the sky - Jupiter its Moons and the two stars - this was a shorter exposure to stop the planet and stars from streaking, but with a high ISO to boost the signal in the camera and reveal the astro objects.
3) and the last one was a darker exposure to bring back the colour into Jupiter - Jupiter is one of the brightest objects in the night sky, so if the exposure is too high (as per the previous exposure) it will 'blow out' the detail leaving it as a white disc.
As explained above the reason for the multiple exposures was simply a matter of obtaining the highest quality possible for each of the 'objects' in the photo.  For reference I have provided a photo below which I took about 4 minutes after the exposures I took for the above image - this photo was a single exposure, showing blown out highlights, lots of noise, less detail, less colour, less sharpness etc.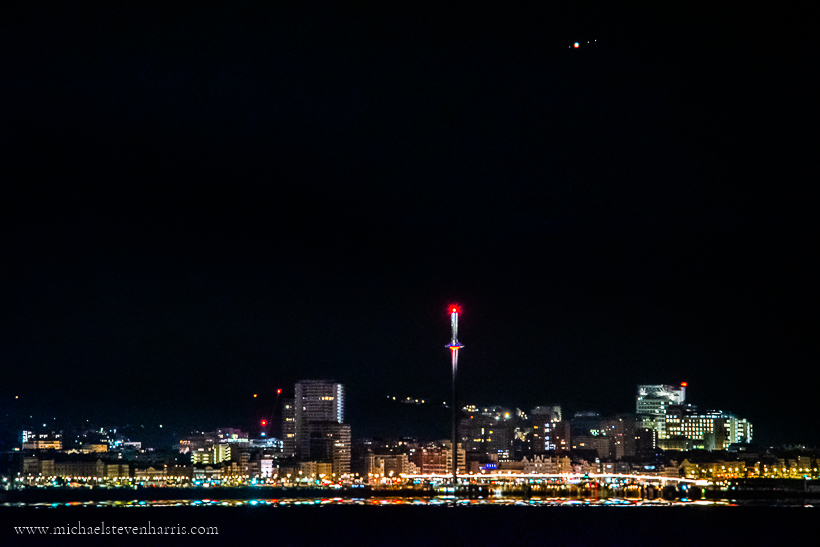 BRIGHTON 2023 ASTRO CALENDAR (now over 50% off at only £5.99 with free UK delivery!)
PRINTS & CANVAS WRAPS:
< If you wish to purchase this, or any of my other photos, please follow this link to my Brighton galleries (or send me a message!) >



Hope you enjoyed reading about Jupiter and its Moons over the Brighton Skyline!

Michael ✨